The Go-to Clinic for Dental Implants in Langley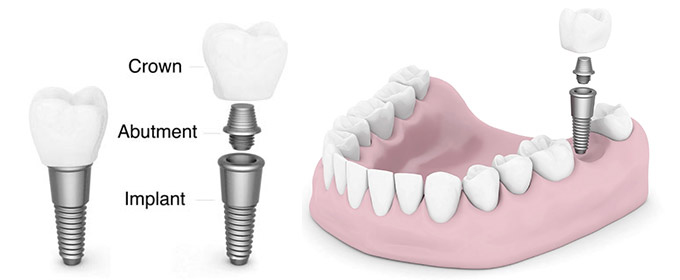 Dental implants are extremely beneficial for patients suffering tooth loss. Whether you are missing one or more of your teeth, dental implants allow our dentists to restore full functionality and give you a beautifully natural smile, while restoring all the health benefits of your natural teeth. Dental implants are true tooth replacements, and their extraordinary success rate makes them our top choice to restore a smile

At Township Dental Centre, we take immense pride in delivering dental care to our community. Our primary goal is to provide personalized oral health care for you and your family. Get in touch with us if you need dental implants from a trusted Langley dental clinic.

What Are Dental Implants?
Dental Implants are titanium anchors placed into the jaw that holds an artificial tooth securely under the gum. A natural tooth consists of a root and a crown. When you lose a tooth, you lose both the root and the crown. To replace the tooth, the surgeon first replaces the root with a small dental implant.

Time is allowed for the bone to heal and grow around the dental Implant. The bone bonds with the titanium, creating a strong foundation for artificial teeth. A support post (abutment) is then placed on the Implant, and a new replacement tooth (crown) is placed on top of the abutment. In many cases, a temporary replacement tooth can be attached to the Implant immediately after it is placed. If all your teeth are missing, a variety of treatment options are available to support the replacement teeth.

How Much Are Dental Implants in Langley, BC?
"Implants have to be done right the first time, and finding a skilled doctor is the key."

Dr Boparai prefers to use a method called Minimally Invasive Guided Implant Surgery. Using this technique allows for the exact preplanned placement of one or more implants using a surgical implant guide which is fabricated in advance of the surgery.

At Township Dental, we offer Implants for $3500, including everything from Implant placement to custom abutment to final Crown Placement.

Dental implants have been available for several decades. However, for most patients, they are still a relatively new concept. When considering the cost of dental implants and comparing quotes, there are several essential points that should be kept in mind.

What Are the Benefits of Dental Implants?
Dental implants can significantly improve your oral health. With a trusted dental implant from a Langley dental clinic, you can enjoy advantages such as:

Longevity
When comparing the cost of dental implants to other tooth replacement methods such as dentures and bridges, it is important to take into consideration the longevity offered by dental implants that is not always afforded by other, more traditional methods.

While dentures and bridges are initially less expensive, their affordability can be short-lived. Because these older methods require repair and replacement every 5-10 years, they are often more expensive over time. By contrast, dental implants can last a lifetime when properly placed and cared for.

Jawbone Health
Over time, when a tooth is missing, the jawbone deteriorates. While a denture or bridge may seem to function similarly to a tooth, underneath the surface, the damage is being done to the jawbone and, ultimately, to the structure of the face. This can result in the distortion of the shape of a person's face, leading to additional cosmetic costs down the road.

On the other hand, dental implants are made of titanium, which integrates with the jawbone, strengthening it and stimulating bone growth. This preserves the natural strength and quality of the mouth, lessening problems in the future.

Quality of Life
Dental implants can be seen as a long-term investment not only in terms of money but also in terms of quality of life. A dental implant is the closest thing to a natural tooth. In addition to allowing the patient to eat the same healthy foods he or she has always enjoyed, it also eliminates the day-to-day hassles and possible embarrassment that are frequently caused by dentures.

Surgical Advances
Using modern dental implant technology, Dr.Boparai is able to place single stage implants. These implants do not require a second procedure to uncover them, but do require a minimum of 3 months of healing time before artificial teeth are placed. There are even situations where the implants can be placed at the same time as a tooth extraction — further minimizing the number of surgical procedures.

What Type of Anaesthesia Is Used?
Most dental implants and bone grafts can be performed in the office under local anaesthesia, without general anaesthesia, with minimal downtime. The whole procedure can last from an Hour to an Hour and a half.

Do Implants Need Special Care?
Once the implants are in place, they will serve you well for many years if you take care of them and keep your mouth healthy. This means taking the time for good oral hygiene (brushing and flossing) and keeping regular appointments with your dental specialists.

Why Choose Township Dental Centre for Dental Implants in Langley, BC?
If you are looking for dental implants in your area, Township Dental Centre is here for you.

Oral Care Dedication
Our team of experienced dental professionals is fully committed to providing excellent dental care in a welcoming and relaxed environment. With us, you can feel comfortable and be assured that you're receiving the care you deserve.

Caring and Compassionate Staff
At Township Dental Centre, our staff is not only highly trained and skilled but also genuinely caring and compassionate. We take the time to listen to your concerns, answer any questions you may have, and provide the personalized dental care addressing your specific needs.

Comprehensive Range of Services
We proudly offer a comprehensive range of dental services beyond dental implants. By choosing our practice, you can conveniently address various oral health issues and receive the necessary treatments under one roof.

New Patient Welcome
We warmly welcome all new patients to Township Dental Centre. We understand the importance of finding a trustworthy and reliable dental provider, especially for specialized procedures like dental implants. Whether you're seeking a second opinion or starting your dental journey with us, we encourage you to schedule an initial consultation appointment.

Where Can I Get Teeth Implants Near Me in Langley, BC?
Prioritize your oral health and schedule an appointment with Township Dental Centre today. Dr. Boparai has a special interest in Dental Implantlogy and is currently immersed in pursuing Guided Surgery to deliver excellent results through less invasive means.
For dental implants in Langley, BC, visit Township Dental Centre today. Call us now at (604) 533-8475 to book your consultation.