Teeth in a day, which is the immediate functional loading of dental implants, this protocol is gaining great popularity throughout the world for both professionals and patients interested in reducing or even eliminating the waiting period for a typical dental implant surgical procedure.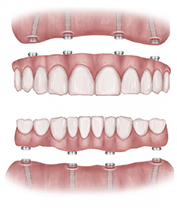 Dr.Boparai is highly skilled in "Teeth in a Day" – a unique implant solution that allows patients who are missing or will require removal of all of their upper and/or lower teeth to replace a full arch of teeth using only four to six implants as "anchors" for the full restoration in just one day. This technique is made possible by the All on Four concept and offers many advantages over traditional dentures.

Dental implant placement can help alleviate the sunken look that can occur with bone loss in the jaw by stimulating bone growth in the area around the implant. This process is called osseointegration and can also help prevent future bone loss.

A major advantage of All on Four technology is that it allows avoidance of expensive and time consuming bone grafting procedures that delay the process.With implant supported full arch restoration, there is no plate covering the roof of the mouth, so speaking and eating are more natural and comfortable than with a traditional denture. Easy to care for, this type of restoration can simulate the look and feel of natural teeth and stay fixed in place with the implants acting as anchors for new teeth. Patients will not experience the typical rocking and movement or gum irritation associated with dentures.

"All on four" restorations can often be placed in one office visit, reducing both overall cost and healing time. Dr. Boparai can provide a full set of teeth on the same day as the implant surgery. Now it's possible to go from having missing teeth. If you desire a more beautiful smile without having to wait like you do with traditional dental implants.

Not every patient and not every site qualifies for Teeth in a Day. Patients need to understand the limitations of such treatment and be willing to accept the precautionary measures we employ. It is strongly recommended that patients be on a soft diet during the three-month healing period to limit the functional forces during osseointegration. While this cannot be easily enforced, patient compliance is an important factor in achieving success.
Thanks to Teeth in a Day, you can leave the Township dental office with a new smile after just a single visit! An experienced implant dentist Dr.Boparai will be happy to show you how you can have a beautiful smile in only a few hours. Contact us today for a consultation to see how we can assist you and your brand new smile!